About Linda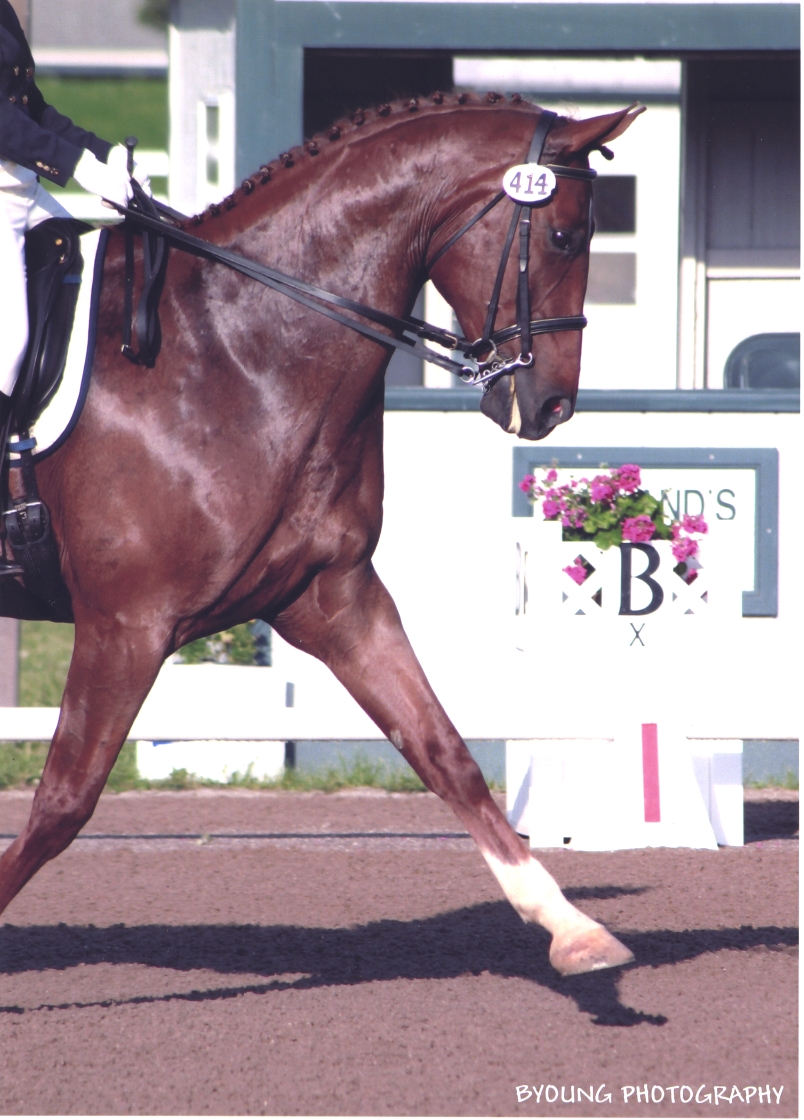 Horses have been a part of Linda's life since a very early age. She grew up in the horse country of Lexington, KY which provided many opportunities to enjoy, and exp lore a huge variety of horse activities. When very young, she would ride her bicycle to a nearby horse farm just to pat the horses, and feed them grass...all day! She started riding American Saddlebreds at about eight years of age. Hunt Seat then came shortly thereafter, and Combined Training followed as a challenging sport with variety of skills required.
When she was about eleven years old, Linda got her first horse, Sonny. Over the next fifteen years, Linda and Sonny participated in many different sports in differen t areas of the country. Linda spent many years in the Pony Club which was a great learning opportunity for a developing horseman. Participation in Rally, and Games, as well as Fox Hunting all provided many great experiences to learn about horse care, sportsmanship and equitation. The Keeneland Pony Club in Lexington, KY gave Linda he r first opportunity to learn teaching skills, too, as more advanced members give lessons to less experienced riders.
Moving to Connecticut at the age of fifteen, Linda took Sonny with her, and joined the Poverty Hollow Pony Club in CT. She had great exposure to Fox Hunting, and Combined Training through the PC, and enjoyed more teaching opportunities as well. Competing at Combined Training Rally was a highlight of the competition year! Poverty Hollow Pony Club won many awards in the years Linda was participating. The area also offered great access to many miles of trails throughout the countryside where she would spend all day just riding, and enjoying time with Sonny.
She then moved with her family to San Jose, California at 17, and started College there, pursuing a degree in Animal Science. However, horses did not really take a back seat! Linda became interested in Endurance Riding, and conditioned several horses for Endurance rides. She logged many competitive miles on SONNY, and a half Morgan Mare, MISTY, which she purchased in CA. In addition, she completed a 50 mile ride on a mule which was generously loaned to her by a good friend when SONNY developed a stone bruise before an Endurance ride! Only later did she discover that the mule was the famous Lord Fauntleroy owned by Virl Norton.
The long hours of riding, and experiential learning about every aspect of horse care, and conditioning were invaluable as a foundation to much of Linda's future with horses.
Moving back to Lexington, KY a few years later, she took SONNY and MISTY with her again. Linda finished her degree in Animal Science at the University of KY, and started graduate work in Ruminant Nutrition. She continued to compete in Combined Training, and also competed in Jumper shows, and Dressage shows with a many different horses.
Linda and her family decided to embark on the venture of breeding Trakehner Sport horses, and they purchased three purebred mares, and six TB sport mares over several years. Their new farm was named "Rivendell Farm", and the primary goal was to produce Sport Horses to excell in eventing. Some of these offspring were clearly best suited to dressage, which led Linda to pursue dressage more seriously. For twelve years, Linda and her family produced many fine Trakehner, and Trakehner cross horses.
In these years, Linda started most of the young horses herself. It was a breeder's dream to actually get to ride the offspring! The opportunity to feel whether talent and trainability were being produced following years of carefully planned breeding, and raising of the youngsters was very exciting! Some of these young horses were trained by Linda for eventing, hunter and jumper competition, and upper levels of dressage before being sold. It was felt that careful testing of the mare lines was very important.
During these years, Linda also rode all variety of horses, and competed in many different sports with horses. Some horses were trained for clients, and others were horses purchased for resale. The goal for the horses to be sold was to determine a horse's best area of talent, develop it, and market it to a person who was a good match for that horse. This resulted in many very successful horse and rider combinations over many years. Some clients from that time are still training, or riding with Linda currently- twenty five years later! Also in this period, Linda trained horses, and taught riding lessons at a Lexington farm where there were many young riders, and adult students.
Linda got married and moved away from the family farm in 1995. She and her husband, Robert Molzon, purchased a farm in nearby Versailles, Ky. They maintained the name of Rivendell Farm. There, she continued to train and sell some of the last foals that had been bred by her family. She also continued to train and sell horses, and teach lessons at a nearby farm. She chose to specialize in dressage, and trained horses from those just starting their work under saddle, through FEI dressage.
It was a difficult decision to get out of breeding Sport Horses. However, she was very fortunate to sell her good, proven mares to a long time friends, and clients, Chris Roseberry (Charlotte's Creek Farm), and Linda Cupp (Tasse Trak Farm). These mare lines established themselves with their new owners, and continue to produce outstanding sport horses in current years. In addition, it created a situation for Linda to continue a relationship of training the young horses from her original breeding program. Several of the offspring from these breeders have competed at the highest levels of dressage. Others are competitive as hunters, jumpers, and combined training horses. Some have won top awards in the breeding divisions as well, even at elite shows such as Dressage at Lexington (VA), and Dressage at Devon (PA).
Linda began training horses, and teaching at Fair View Farm in 1997, and continues training there today. Fair View Farm is a fabulous facility with over one hundred acres to ride on, excellent outdoor, and covered arenas, cross country, and stadium jumps, and the very best care for the horses. She has many successful students who have attained Bronze and Silver USDF medals, and others who ride for the enjoyment of riding. She also has quite a few very competitive Combined Training students who work with her to improve their dressage work. Currently, Linda is a frequent competitor at USDF shows throughout Region 2, and also has shown in FL, LA, VA, TN, and MO.