Show Results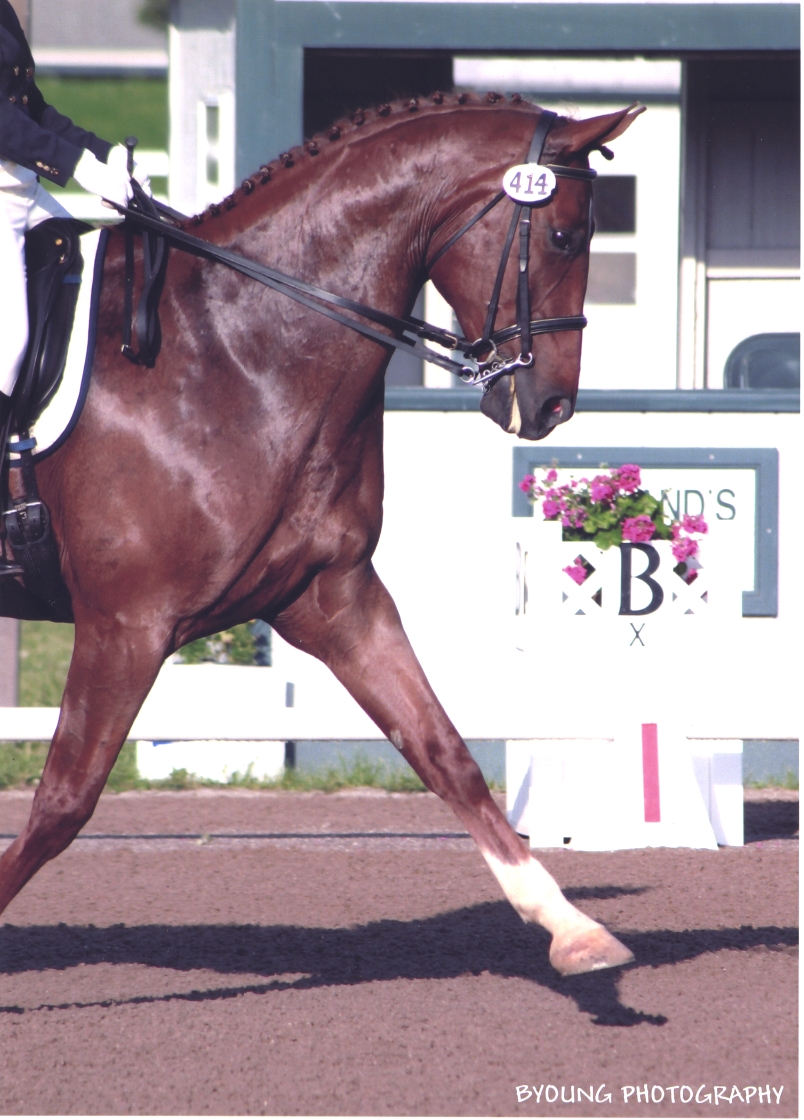 Highlights of show results.
Linda has been showing horses for over 35 years. She started in Hunter's and Jumpers, and then went on to Eventing. While she lived in California she worked with a Standard Bred race trainer and participated in Endurance competitions. One of Linda's mounts for Endurance was the famed Lord Fauntleroy owned by Virl Norton.
We've summarized below only her show experience in Dressage since she has specialized in this discipline for the past 19 years.
More information on Linda's show record can be found at CenterLineScores.
The majority of the horses that Linda has shown in USDF shows have been brought along through the levels by Linda, and she started many of them under saddle. They were not "made" horses that had already been trained. They included horses from small local breeders, one off the track Thoroughbred that competed very successfully through 4th Level, and others that had been purchased for very modest amounts of money.
Summary of USDF Show Record
USDF Show Experience

First Show 20 Years Ago
190 Shows with 42 Horses

Lifetime Median Scores

Intermediare 2, 60.12%
Intermediare 1, 66.82%
Prix St George, 64.50%
4th level, 65.64%
3rd Level, 65.77%
2nd Level, 66.22%
1st Level, 67.33%
Training Level, 69.17%
Dressage Sport Horse, 76.55%
2012
The two Fresian horses shown by Linda had a great year. Inke FCF won 15 1st place ribbons in USDF shows, and Beerend W won 10 1st place ribbons. Their success was recognzed in the USDF year End Awards.
USDF Year End Awards
Inke FCF

All breeds award (FHANA): PSG Champion
All breeds award (FHANA): I-1 Reserve Champion
All breeds award (FHANA): FS Champion
USDF Horse of the Year: FS 5th Place

Beerend W

All breeds award (FHANA): 3rd Level Champion
All breeds award (FHANA): 3rd FS Champion
USDF Horse of the Year: 3rd FS 2nd Place
Region IV Championships
2011
USDF Year End Awards
Inke FCF

All breeds award (FHANA): 3rd, Reserve Champion
All breeds award (FHANA): 4th, Reserve Champion
USDF Horse of the Year: 3rd, 17th Place

Beerend W

All breeds award (FHANA): 2nd, Reserve Champion
USDF Horse of the Year: 2nd, 30th Place
2010
USDF Year End Awards
Alta von Reh

All breeds award (FHANA): 4th, Champion

Thomas von Klaverfjouwer

All breeds award (FHANA): 3rd, 3rd Place

Inke FCF

All breeds award (FHANA): 1st, Champion
All breeds award (FHANA): 2nd, 4th Place
2009
Alta von Reh

All breeds award (FHANA): 3rd, Champion
USDF Horse of the Year: 3rd, 8th Place

Remington

All breeds award (FHANA): I-1, Champion
All breeds award (FHANA): I-1 FS, Champion
All breeds award (FHANA): I-1 Challenge, Champion
USDF Horse of the Year: I-1, 15th Place
USDF Horse of the Year: I-1 FS, 6th Place
USDF Horse of the Year: I-1 Challenge, 6th Place
2008
Remington

All breeds award (FHANA): PSG, Champion
All breeds award (FHANA): I-1, Champion
2007
Remington

All breeds award (FHANA): 2nd, Champion
All breeds award (FHANA): 3rd, Champion
USDF Horse of the Year: 2nd, 3rd Place