Linda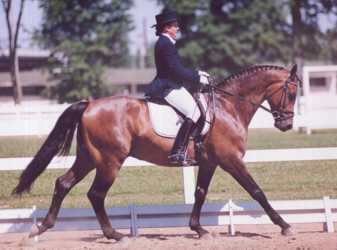 Linda grew up in the horse country of Lexington, Kentucky, and horses have been a big part of her life from a very early age. At about eight years old she started riding Saddlebreds, followed by Hunt Seat, and then Combined Training. Linda got her first horse, Sonny, when she was eleven and spent the next fifteen years participating in a variety of sports with him.
Since Linda's father worked for IBM as an engineer her parents moved around the country quite a bit and Linda and Sonny went with them. In Connecticut they joined the Poverty Valley Pony Club and had a great time with Fox Hunting and Combined Training. These activities provided great learning opportunities to develop as a horseman. Later, the Pony Club in Lexington, Kentucky provided Linda with an opportunity, as an advanced member, to begin teaching new Pony Club members.
When the family moved to San Jose, California Linda started college pursuing a degree in Animal Science, and started Endurance Riding with Sonny and a newly purchased mare, Misty. She had the rather unique experience of doing a fifty mile ride with the famous mule, Lord Fauntleroy, who was loaned to her by Virl Norton when Sonny developed a stone bruise.
Back in Kentucky with Sonny and Misty, Linda finished her degree in animal science and began graduate work in Ruminant Nutrition. She continued to compete in Combined Training, Jumpers, and Dressage with many different horses. Linda and her parents also decided to develop a breeding program with Trakehner horses. The object of the newly named farm, Rivendell, was to breed Trakehner and Trakehner Cross horses that would excell at Eventing. Linda started most of the offspring herself and developed some for careers in Eventing, Jumpers, or Dressage depending on the individual horse's talent.
Linda's number one priority in training and selling horses was to develop the natural talent of the horse and market it to a client who was a good match the horse. Along with breeding Trakehners and training horses, Linda provided riding lessons for both young riders and adults, some who are still working with her 25 years later!
In 1995 Linda married Robert and they purchased a farm in Woodford County, Kentucky. They kept the name, Rivendell Farm, and Linda continued to train some of the last foals bred by her family. She gradually transitioned out of breeding in order to concentrate on Dressage competition, training, and instruction. Some of her proven mares went to long time friends and clients, and they continued to produce outstanding sport horses. This allowed Linda to continue developing the offspring from starting to FEI level dressage horses. Linda has always preferred taking a young horse from first mounting to accomplished, ridable, and competitive high level dressage to simply riding "made" horses. A number of her horses have gone from "unbroke" to Grad Prix with her training. Hence the Rivendell moto, " a trainer is someone who can train ten horses out of ten".
Robert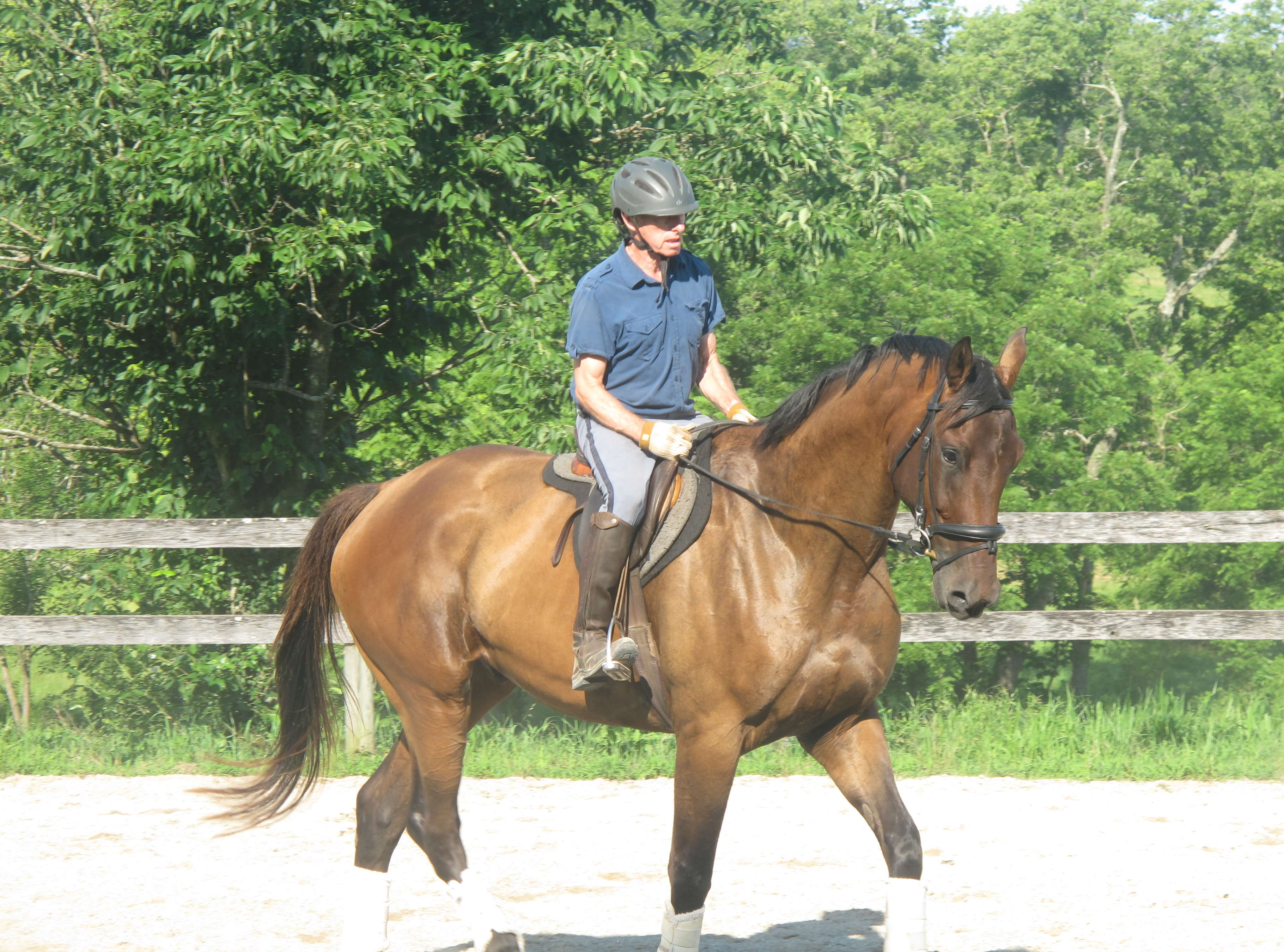 Robert started riding over 25 years ago while he was a mathematics professor at the University of Kentucky. His previous experience with rock climbing, ice climbing, and ski mountaineering helped him develop the athletic ability required for successful riding. After retiring from the academic world he began working professionally with horses. His primary focus is on starting young horses and retraining horses that have encountered difficulties.
Many of the horses he has retrained - including a number of OTTBs - have gone on to successful careers with amateur riders. Perhaps his most important equine teacher was his first horse, Raspberry Jazz, a very opinionated thoroughbred mare who provided numerous lessons on dealing with a terrorist. Fortunately for both Robert and Jazz they reached a mutually beneficial understanding and Jazz went on to be a wonderful riding horse for an elderly amateur.
Robert has competed successfully in eventing, jumping, and dressage.
In addition to working with horses, Robert has spent a substantial amount of time on farm construction projects. He is now spending some time in New Mexico developing a farm as a possible future equine enterprise.