Sales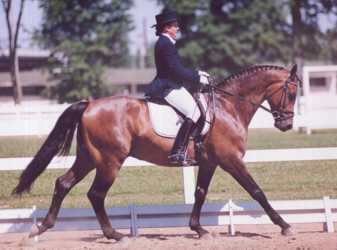 Rivendell Farm occasionally has horses for sale that we have trained. We start our own horses with basic ground work that includes "in hand" training and lunging. Most of our horse are also trained to free jump in a jumping lane.
We can also help with the sale of your horse or the purchase of a horse. Linda's experience with many different types of horses and riders will make it more likely that you will find a horse that suits your needs and ability. Our contacts both here in the Blue Grass region, nationally, and in Europe can help locate a high quality horse at a fair price.
All conditions of a sale are fully disclosed to buyer and seller, and we generally do not receive commisions on the horses we sell or purchase for a client. This keeps costs down for both buyer and seller.
Horses for Sale
Fandango
Fandango is a 2008 bay gelding sired by the elite stallion "Fabuleux". "Dango" is approximately 16.3 hh and has excellent ground manners. He has been professionally trained by Linda Strine and he is working at 3rd to 4th level dressage. Dango also enjoys jumping and is straightforward over fences. He would be suitable for an advanced beginner rider and would be an excellent horse for someone wishing to perfect riding skills at 3rd to 4th level. Although he is a moderate cribber this is easily managed with a very mild strap.
Fandango is priced at $12,500.
Photos
Video
Insync
Insync is a 2001 gray ISR/Oldenburg mare sired by "Ideal". She is a very special mare with tremendous work ethic and a strong desire to please. A rider will quickly recognize her intelligence and tremendous athleticism. Insync is schooling 4th level and ready to be shown 3rd level now. She has very good gaits, and she is super elastic, making her easy to sit. Insync would be an excellent horse for an experienced young rider or amateur. She is very classy, super sound, and always ready to do her job.
Insync is priced at $12,000.
Photos
Sensational Game (SOLD)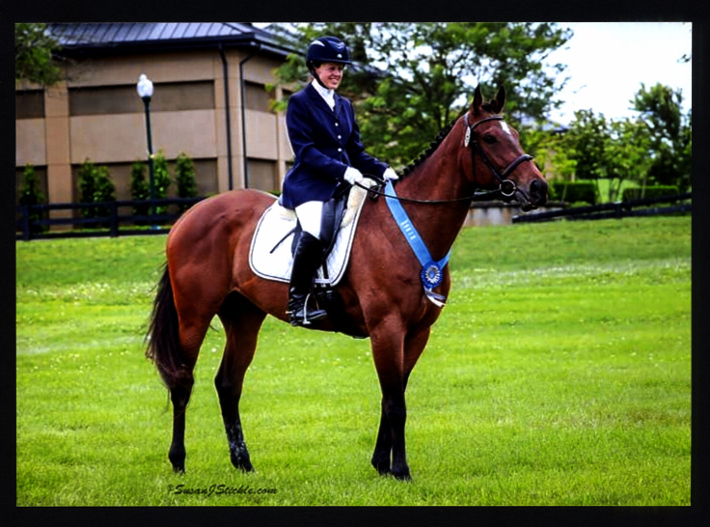 Sensational Game (Satie), foaled in 2013, is a very athletic 16.2 hh bay mare with a wonderful disposition. Satie has been in full dressage training with Linda Strine of Rivendell Farm in Versailles, Kentucky since March 2017. Satie is getting a solid foundation that will help her excel in her new performance career. Satie was bred, raised, raced and now moved into the performance world by the same owners. Satie was shown in four USDF recognized dressage shows at Training and First Levels during the 2017 season with scores up to 67.1%. She was the TB Incentive Program Champion at all four shows. She competed in Dressage at the Retired Race Horse Program show at the Kentucky Horse Park and finished 8th out of 84 horses with a score of 70.1% at Training Test 2 and a 1st level demonstration ride. Her consistency is amazing, especially when you consider she is only a four year old! Satie has had extensive free jumping training and shows great talent for jumping. Satie will be a suitable mount for a Jr/Yr, AA or Open rider in any of the jumping disciplines.
Satie participated in the Mounted Police Sensory Training Clinic at the Kentucky Horse Park in October 2017. The clinic consisted of three phases: Obstacles such as water pools, teeter toters, ground sheets, and vertical barriers, Riding with a large number of horses in an enclosed area, Control Manuevers such as pushing a large ball, walking past bubble machines, and facing inflatable-advertising air-dancers.
Satie has excellent ground manners and is quiet, safe, and fun to ride. She is priced at $7,500.
Videos
Photos