Sales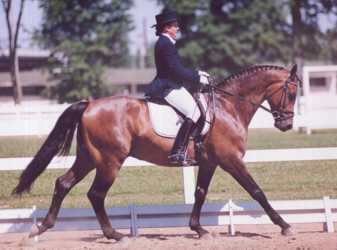 Rivendell Farm occasionally has horses for sale that we have trained. We start our own horses with basic ground work that includes "in hand" training and lunging. Most of our horse are also trained to free jump in a jumping lane.
We can also help with the sale of your horse or the purchase of a horse. Linda's experience with many different types of horses and riders will make it more likely that you will find a horse that suits your needs and ability. Our contacts both here in the Blue Grass region, nationally, and in Europe can help locate a high quality horse at a fair price.
All conditions of a sale are fully disclosed to buyer and seller, and we generally do not receive commisions on the horses we help our clients sell or purchase. This keeps costs down for both buyer and seller.
Horses for Sale
Zsergeant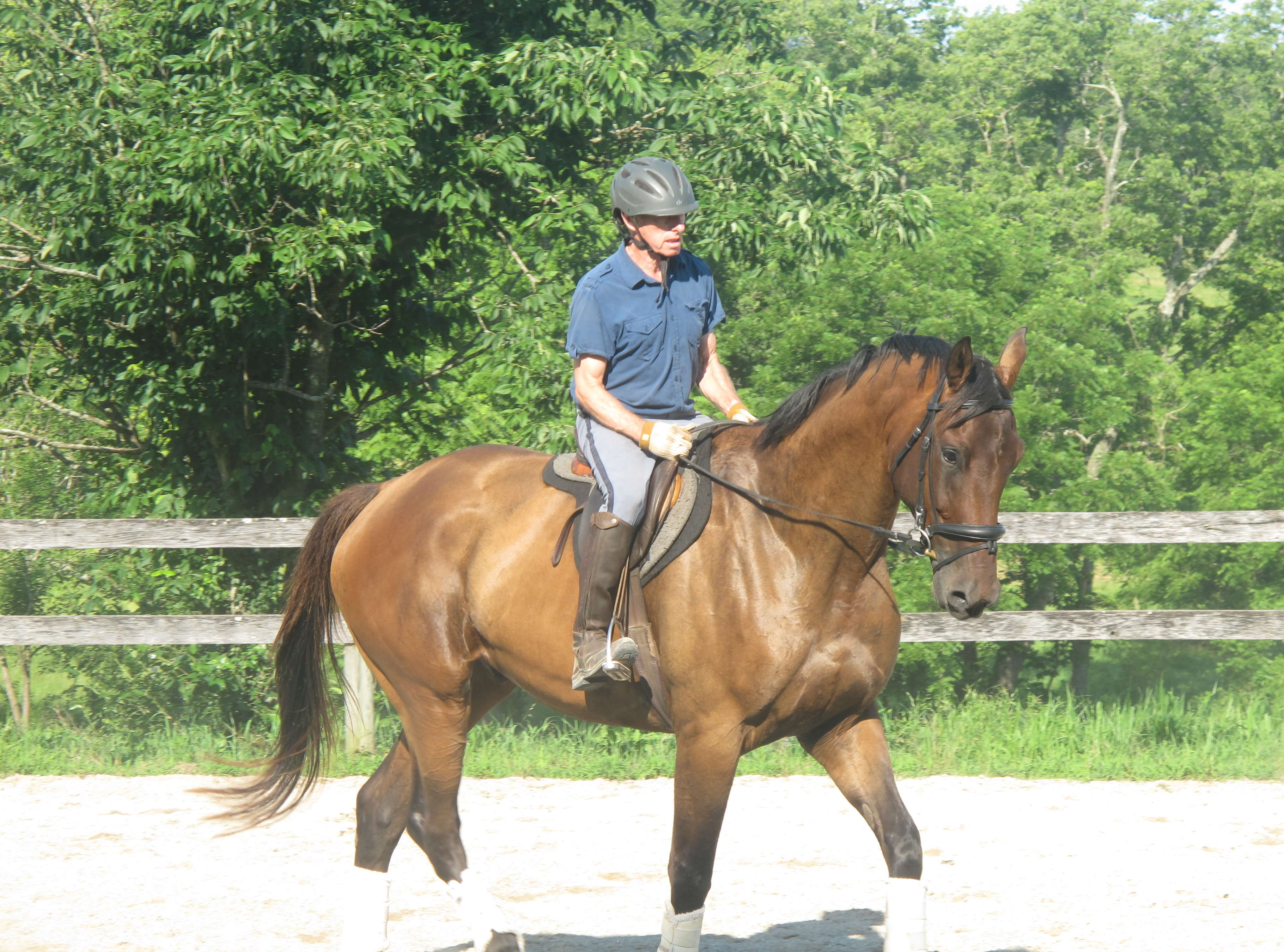 Zsergeant is a 2014 Danish Warmblood by Blue Hors Zack out of Serena, by Rambo. Zsergeant is registered with the North American Danish Warmblood Association. He has a terrific pedigree loaded with dressage stars, and some jumping blood, too. His sire, Blue Hors Zack, is a well known International dressage stallion, and has sired numerous International caliber dressage horses. His damsire, Rambo, was a Grand Prix jumper, and Grand Prix dressage horse that competed Internationally in both sports. Rambo has been a very successful sire of top horses in dressage and jumping.
Zsergeant (foaled March 2014) got a bit of a late start with his training due to his large size and slow maturity. He started regular dressage training when we acquired him at the beginning of his five year old year. He is one of the gentlest, most consistent horses I have worked with. He is kind and willing, has a great work ethic, and always tries his best. He is showing and winning at 3rd level and schooling all 4th level movements. He is calm, but not lazy, and he is naturally forward thinking. He is terrific out of the arena, and really enjoys going out and about. My husband has ridden him a lot, and we both feel he is one of the easiest horses we train. He is truly a gentle giant!
He has had no soundness issues, and no health problems. He is up to date on vaccinations, dental care, and receives no special maintenance. He has great feet and is able to remain barefoot while in full work. He is easy to manage and loves his turnout, either alone, or with a friend. A good home is a must for this very special horse.
Zsergeant stands approximately 18 hands high. He is for sale by Private Treaty.
Photos
Video
VA Brown Sugar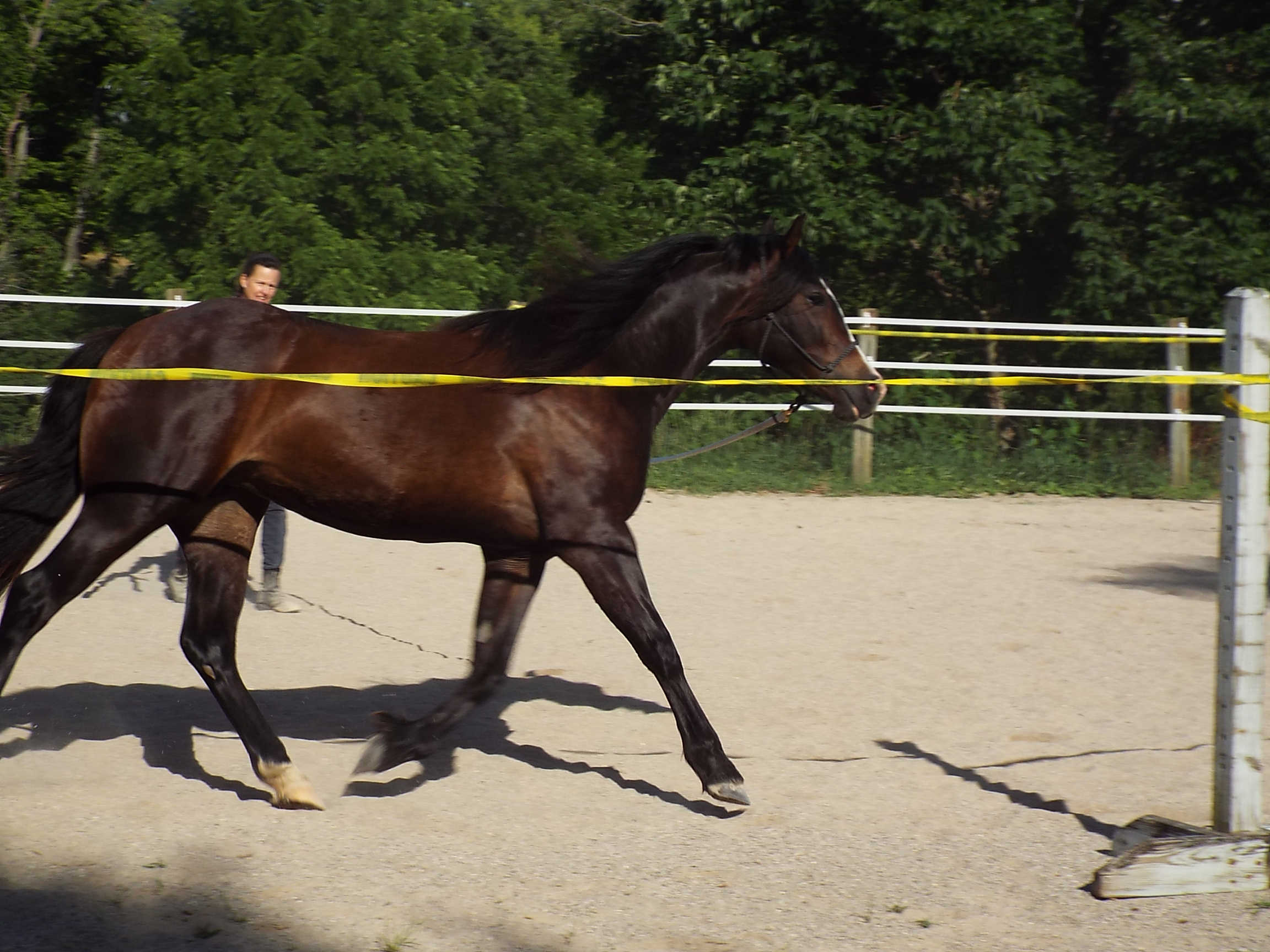 Brown Sugar is a 2020 sporty filly bred by Tracy Vann of Vanguard Arabians (breeder of Blizard of Oz - 2nd place 2021 and 2022 Tevis cup and 2022 winner of Best Conditioned award). Sugar's sire was the International Champion Black Welsh Cob Stallion Trofarth Antur. Her dam was VA Princess Milana, an Arabian/Quarter Horse cross (Quarab). Sugar should mature at about 15.1 hh, and she has a sturdy constitution with medium bone and excellent feet. She has a great disposition with good trainability. Sugar is calm leading and standing for grooming, hoof trimming, and washing. We feel she is a versatile horse that could be trained successfully in a number os disciplines. Her gaits are powerful and ground covering.
Video
VA Brown Sugar is priced at $7,500
Belladora (SOLD)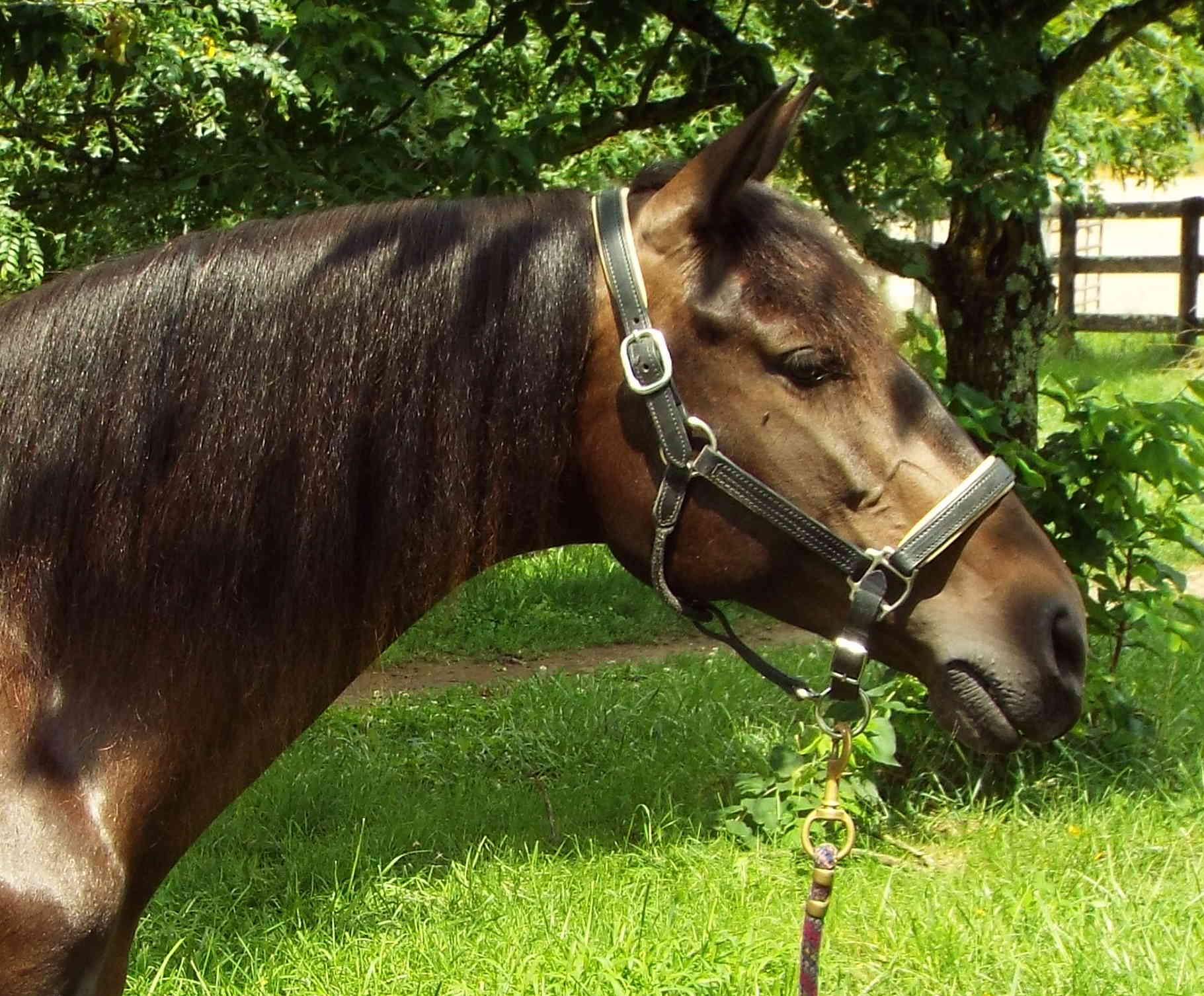 Belladora is a purebred Andalusian, bred by renowned breeder, Coves-Darden Farm. She was foaled in July 2012. Bella is a truly unique mare, and has a permanent USEF pony card (146.5 cm). Her absolutely delightful disposition, and lively temperament are typical of the breed. She is extremely people oriented, wants to please, and has a great work ethic. Showing off for an audience at a show is one of her favorite things! Her charisma and wonderful character are very evident to all who watch her.
Bella has won many year end championships and awards as she has moved up the levels from Training through Fourth level. She is currently showing very successfully at Prix St. Georges in 2021, and she is schooling all the movements of Intermediare 1, as well as some half steps, and even ones! She shows plenty of potential to continue her training through the FEI levels. She is super fun to ride and train, and her gaits are very easy to sit. She works well in either a snaffle, or a double bridle.
All vaccinations and de-worming are up to date, and Bella works and shows barefoot! Her stable manners are good, and she loves grooming, bathing and all the attention that she can get! She works well in either a snaffle, or a double bridle.
All vaccinations and de-worming are up to date, and Bella works and shows barefoot! Her stable manners are good, and she loves grooming, bathing and all the attention that she can get! She loads and travels well, and she is perfect to handle at shows. This is a rare opportunity to own a young FEI level Andalusian mare, that is also eligible to show in the pony divisions.
Videos
I've Got Dibbs (SOLD)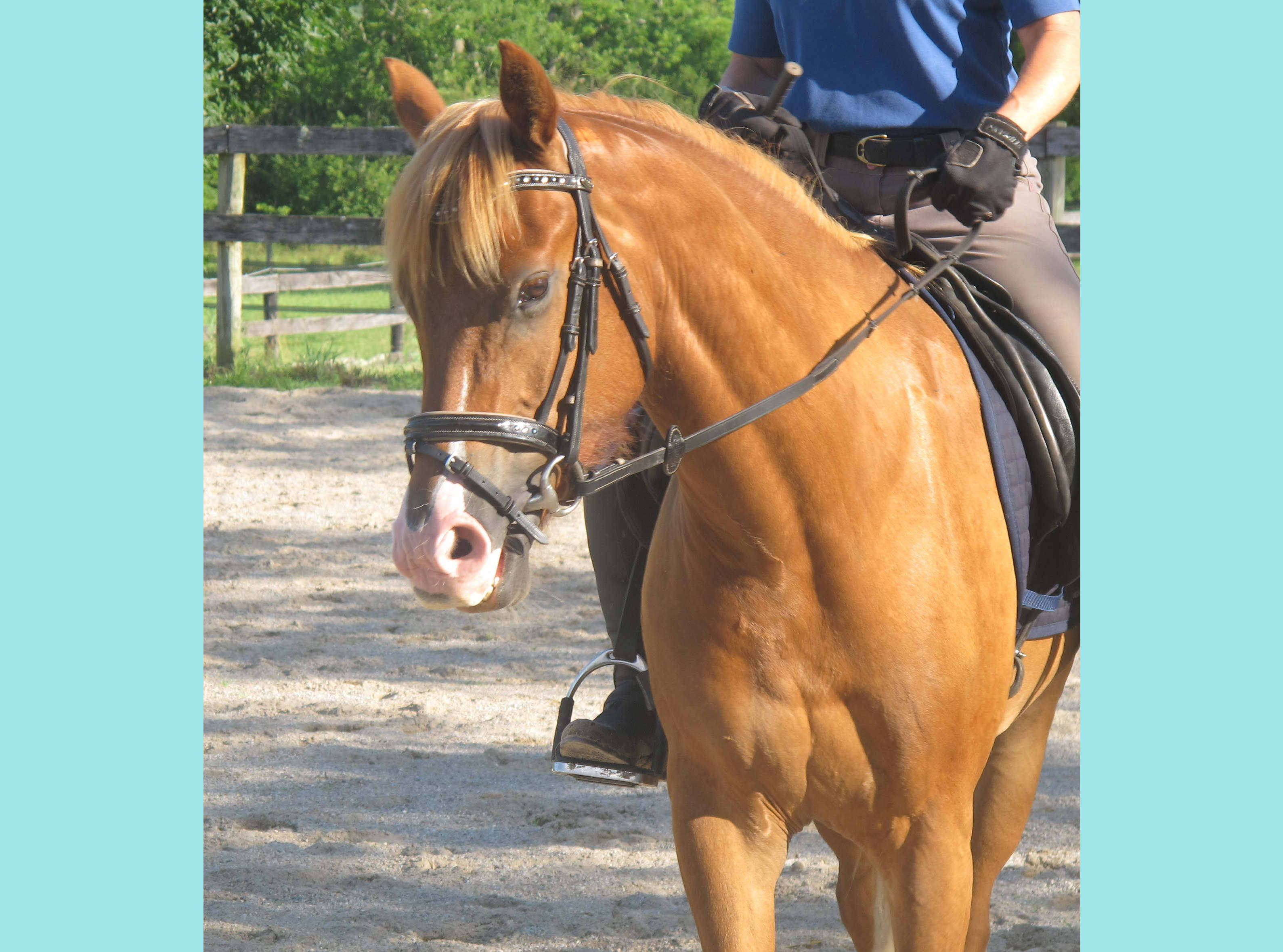 I've Got Dibbs is a 2015 POA cross sport pony sired by Ellesmera Ali Baba. Dibbs is the sweetest pony you can imagine! He steals everyone's heart the minute they meet him. His beautiful color and kind expression make him adorable. His impeccable manners and gentle character make him easy to love!
Dibbs went to his first dressage show July, 2019, and he was a star! He scored 7's on his gaits, and he had super Training Level tests! Though he has only been under saddle since November 2018, he is super safe, and feels like a pony with much more experience.
Dibbs continued showing everyone that he is a super pony at his second show, the KDA Fall Classic at the Kentucky Horse Park on the 12th and 13th of October. He was Pony Champion with a Training Level Test 3 score of 72.4. This was the second highest score of the entire show, and he was Reserve High Point Champion for the show. Of course he won all of his four classes.
Dibbs was the 2020 Kentucky Dressage Association (KDA) Open Training Level Champion and the 2020 Open Overall (all levels) Pony Champion.
Dibbs is great on trails, loads perfectly, and loves to see new things. He has a heart of gold, and you immediately know this when you are around him, or ride him. He has been free jumped, and is now training over gymnastics and shows great enthusiasm for jumping under saddle. Dibbs is also continuing in dressage training with Linda.
This is a super special pony, capable of training in any sport of your choice! He measures 147 cm.
Video
Janneg MGF (SOLD)
Janneg is a 2014 Dutch Warmblood mare by Negro (sire of Olympic and World Champion dressage horse Valegro). She has had an outstandeing foal by Everdale in 2018. Janneg started formal training under saddle in January 2019 and has progressed quickly. She loves to jump and is easy to ride. She is great on trail rides and work outside the arena. Janneg is a very easy going laid back mare. During her first month under saddle she worked in rain, snow, and howling wind. Janneg has been barefoot since we've had her thanks to her excellent solid hooves. She has excellent ground manners and loves attention.
Janneg had a spectacular first show at the Kentucky Horse Park in September 2019. She won all of her classes at Training and 1st Level, and she was reserve high point for the show. Links to videos from that show are provided below.
Janneg stands 16.1+ hands high.
Videos
Fandango (SOLD)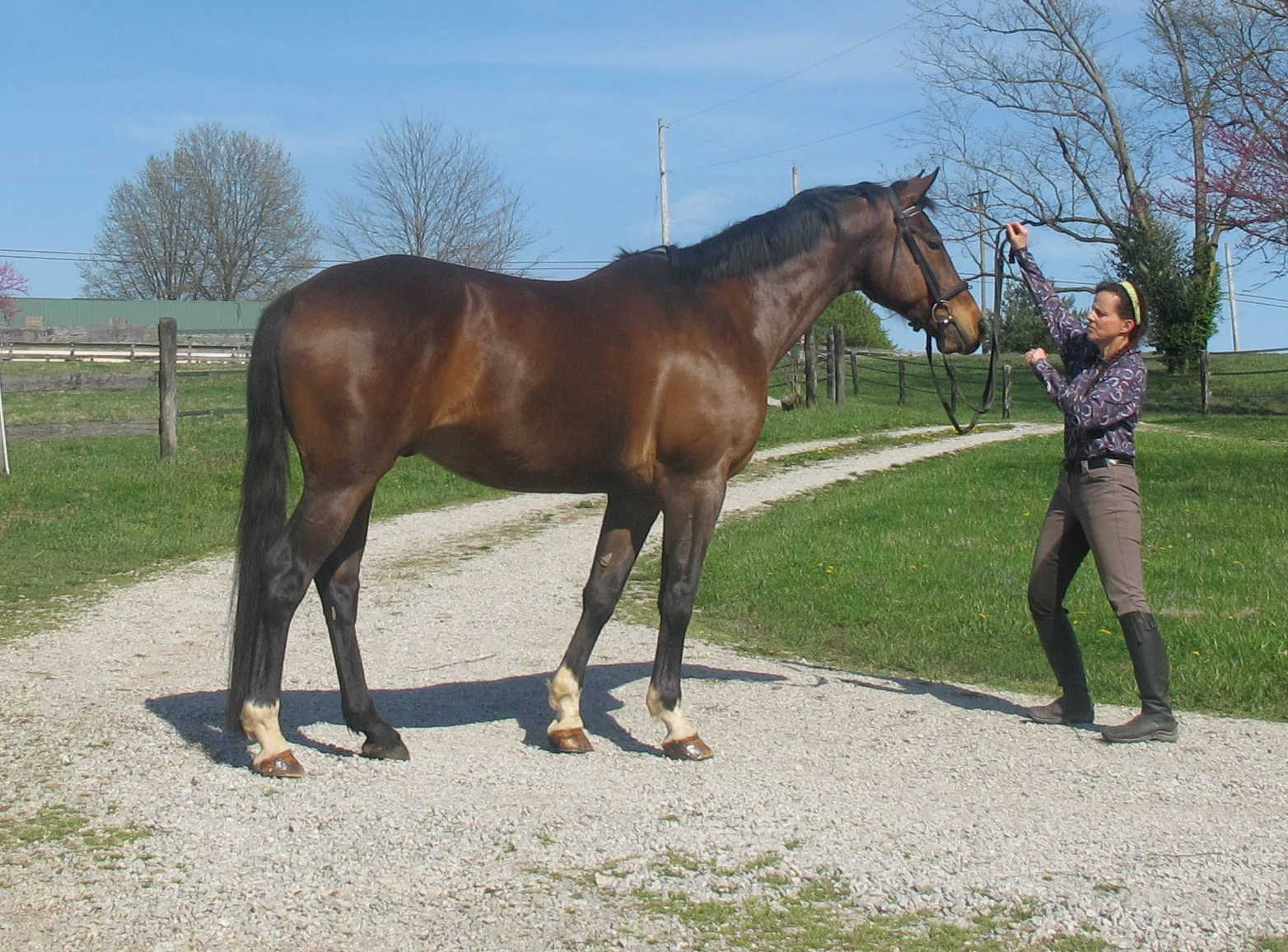 Fandango is a 2008 bay gelding sired by the elite stallion "Fabuleux". "Dango" is approximately 16.3 hh and has excellent ground manners. He has been professionally trained by Linda Strine and he is working at 3rd to 4th level dressage. Dango also enjoys jumping and is straightforward over fences. He would be suitable for an advanced beginner rider and would be an excellent horse for someone wishing to perfect riding skills at 3rd to 4th level. Although he is a moderate cribber this is easily managed with a very mild strap.
Video
Insync (SOLD)
Insync is a 2001 gray ISR/Oldenburg mare sired by "Ideal". She is a very special mare with tremendous work ethic and a strong desire to please. A rider will quickly recognize her intelligence and tremendous athleticism. Insync is schooling 4th level and ready to be shown 3rd level now. She has very good gaits, and she is super elastic, making her easy to sit. Insync would be an excellent horse for an experienced young rider or amateur. She is very classy, super sound, and always ready to do her job.
Photos
Sensational Game (SOLD)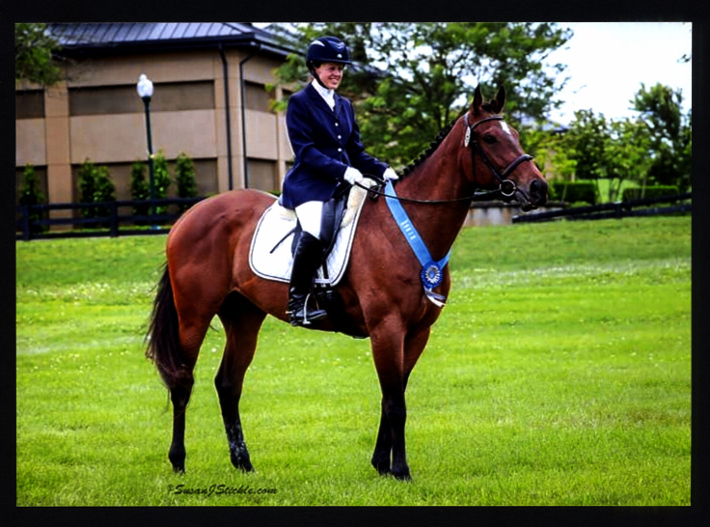 Sensational Game (Satie), foaled in 2013, is a very athletic 16.2 hh bay mare with a wonderful disposition. Satie has been in full dressage training with Linda Strine of Rivendell Farm in Versailles, Kentucky since March 2017. Satie is getting a solid foundation that will help her excel in her new performance career. Satie was bred, raised, raced and now moved into the performance world by the same owners. Satie was shown in four USDF recognized dressage shows at Training and First Levels during the 2017 season with scores up to 67.1%. She was the TB Incentive Program Champion at all four shows. She competed in Dressage at the Retired Race Horse Program show at the Kentucky Horse Park and finished 8th out of 84 horses with a score of 70.1% at Training Test 2 and a 1st level demonstration ride. Her consistency is amazing, especially when you consider she is only a four year old! Satie has had extensive free jumping training and shows great talent for jumping. Satie will be a suitable mount for a Jr/Yr, AA or Open rider in any of the jumping disciplines.
Satie participated in the Mounted Police Sensory Training Clinic at the Kentucky Horse Park in October 2017. The clinic consisted of three phases: Obstacles such as water pools, teeter toters, ground sheets, and vertical barriers, Riding with a large number of horses in an enclosed area, Control Manuevers such as pushing a large ball, walking past bubble machines, and facing inflatable-advertising air-dancers.
Satie has excellent ground manners and is quiet, safe, and fun to ride.
Videos