Sales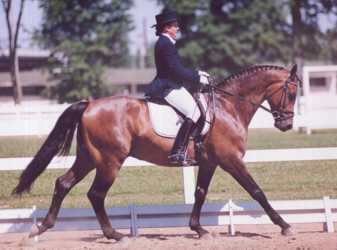 Rivendell Farm occasionally has horses for sale that we have trained. We start our own horses with basic ground work that includes "in hand" training and lunging. Most of our horse are also trained to free jump in a jumping lane.
We can also help with the sale of your horse or the purchase of a horse. Linda's experience with many different types of horses and riders will make it more likely that you will find a horse that suits your needs and ability. Our contacts both here in the Blue Grass region, nationally, and in Europe can help locate a high quality horse at a fair price.
All conditions of a sale are fully disclosed to buyer and seller, and we generally do not receive commisions on the horses we sell or purchase for a client. This keeps costs down for both buyer and seller.
Horses for Sale
Rio Paisano's Juliet
"Juliet" is an event rider's dream. She is a 16hh nine year old Oldenburg mare, and she loves to jump. She evented two plus years at Novice and almost always finished on her dressage score. She never had cross country penalties.
Juliet is solid first level dressage and currently schooling second level.
She would be an excellent horse for an adult amateur, or a young rider wanting a safe and reliable partner. Her gaits are easy to sit, and she is soft in the bridle. Juliet has perfect ground manners and is very easy to deal with at shows.
Priced at $20,000.
Photos
Videos
Eclat
"Eclat" is a dark brown, 16.3 hh Dutch Warmblood gelding. He is schooling Second Level, and very solid First Level.
Eclat is personable, and a fun horse to work with. His sire is Contango (sire of Ravel) , and his dam's sire is Gribaldi ( sire of Totilas). Eclat's amazing bloodline are evident in his imposing stature, good gaits, and great character.
Eclat is calm, uncomplicated to ride, and light in the bridle. He would be a great partner for a rider looking for that special horse to bring along through the levels. Priiced at $25k.
Videos
Pepper Czort (SOLD)
Pepper is a fourteen year old Arabian mare training second level dressage. Pepper is an excellent trail horse, goes through water, jumps small fences and ditches, and has helped herd stray cows back to where they belong!
Pepper has excellent ground manners and is quiet and safe to ride. She has very good conformation and had one foal when she was five years old.
Videos